SecureStyle is proud to announce that we are a member of DGCOS.
What is DGCOS?
The Double Glazing & Conservatory Ombudsman Scheme (DGCOS) protects consumers buying Double Glazing products, Conservatories, Doors, Porches, Fascias, Soffits, Orangeries or associated products from DGCOS Accredited members.
All DGCOS Accredited Installers are continually vetted in many areas to ensure consumers are satisfied. All customers receive comprehensive protection throughout the buying, installation, after sales and guarantee experience.
If you want assurance that you're protected, make sure you use a member of DGCOS. Homeowners who use DGCOS members receive a comprehensive warranty from their installer, FREE access to a comprehensive dispute resolution service including: FREE mediation, FREE independent inspections at DGCOS discretion and a FREE independent Ombudsman service, FREE Deposit Protection Insurance* and a FREE Insurance Backed Guarantee.
DGCOS Members provide you, the customer, with all the protection and safeguards you need, ensuring you make the right choice when deciding where to place your order.
DGCOS provides comprehensive Consumer Protection within the UK Double Glazing and Conservatory Sector and gives consumers an advanced level of protection and confidence.
The scheme's ambassador is Nick Ross (ex BBC Watchdog and Crimewatch presenter).
Ensure your investment is safeguarded by using a DGCOS Member. For further information about DGCOS visit: www.dgcos.org.uk.
Benefits to Consumers (when using a DGCOS Member):
DGCOS Scheme fully endorsed by Nick Ross (former BBC Watchdog & Crimewatch presenter)
Vetted and Accredited Installers
FREE Consumer Advice Line: 0800 195 9433
FREE Deposit Protection* (*up to 25% of the contract value)
FREE Insurance Backed Guarantee (for every customer)
FREE Mediation (to help fully resolve any disputes should they arise)
FREE Independent Inspections (to assist with installation or product defects at DGCOS discretion)
FREE access to an independent Ombudsman (to conclude disputes without incurring legal fees or costs)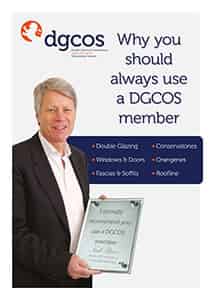 DGCOS Consumer Brochure
DGCOS Consumer Brochure details the comprehensive protection you receive, the benefits of using a DGCOS member, how to check you are registered with DGCOS and the comprehensive accreditation process installers must pass to achieve and retain DGCOS member status. For further details, click here to download the new Consumer Brochure.